Miss Hybrid Pantyhose Orgasm Sybian Test Ride 4K UltraHD Video And HQ Photos
Miss Hybrid pantyhose orgasm Sybian test.
Miss Hybrid has her new Sybian and a host of new attachments to try. Not all are insertable and the one she has picked for today the "Orb" is designed for clitoral stimulation, only that's not going to stop Miss Hybrid from trying to ram it up her arse! Miss Hybrid straddles the Sybian and orb with the fucking machine pulsing the new attachment through her pantyhose and onto her clit. In no time at all Miss Hybrid's pantyhose are soaking wet and it's time for a little modification. Miss Hybrid rips an easy access hole in the pantyhose and spreads her pierced pussy lips to vibrate the attachment against her clit. The added resonance of the Sybian being placed atop the Bechstein Grand Piano only adds to the intense orgasm Miss Hybrid reaches.
Please watch the 4K UltraHD YouTube friendly video below and please feel free to subscribe to and like Miss Hybrid's YouTube videos here https://www.youtube.com/user/MissHybridXXX
Please click the sample scren cap below to see the full uncensored and hard core 4K UltraHD video and HQ photo set available inside misshybrid.com.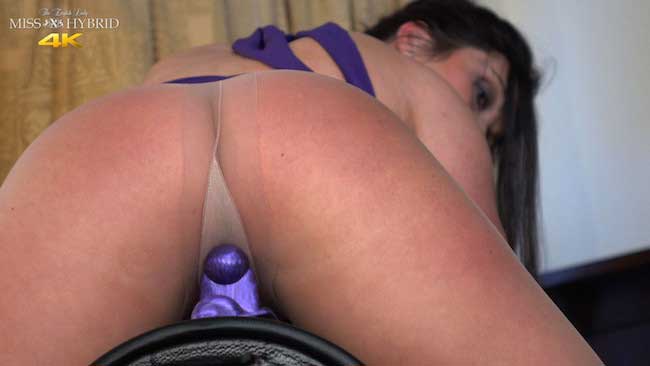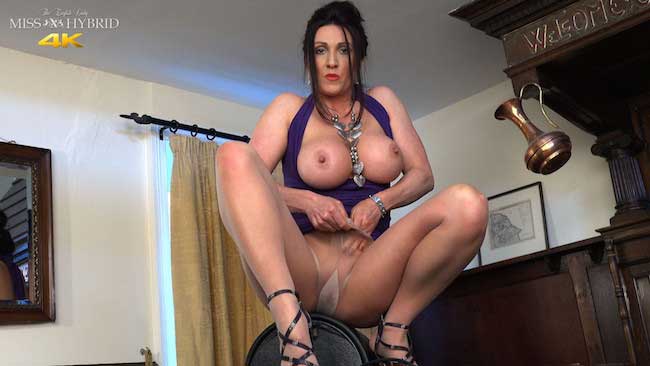 To see the full uncensored and hard core 4K UltraHD video HQ photos and all of Miss Hybrid's HD videos and HQ photos please lick here to visit misshybrid.com.
And to keep up to date with all the goings on and comings off at the Manor please click here to visit misshybridblog.com.